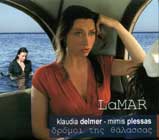 O Mimis Plessas eine enas apo tous simadikoterous ellines sinthetes. Polivravefmenos, me diethni anagnorisi ke dekades epitihies sto energitiko tou, ehi sinergasstei me korifaious stihourgoys ke piites ke anedixe me ta tragoydia tou tous megalyterous ermineftes tou ellinikoy tragoudioy.

H Klaudia Delmer gennimeni stin Polonia ke megalomeni stin Ispania apotelei mia idiaiteri ermineytria me haraktiristiki foni ke skiniki parousia. Polivravefmeni sto exoteriko, ehi dosi sinavlies ke resital se olo ton kosmo.

Mazi me ton Mimi Plessa dimioyrgisan ena poly idiaitero album, se prototipi mousiki tou sintheti ke melopiimeni poiisi Ispanon ke Latinoamerikanon piiton.

To album eine afieromeno sti thalassa ke se themata pou i thalassa simvolizi to taxidi, ti monaxia, ti dynami, ton erota, tin apostasi, ton politismo, tin epikinonia.

H Klaudia Delmer ermineyi monadika ta tragoydia deihnodas tin megali gkama ton fonitikon tis dinatotiton se diaforetika mousika eidi, ke o Mimis Plessas katatheti pragmatika kenoyries mousikes pou anadyoun melodia ke sinaisthima.

Eklektoi stihi apo Ispanoys, Latinoamerikanous ke Ellines piites ke stihourgoys, opos tou J.L. Borges, tou P.Neruda, tou A.Gala, tou R. Alberti, tou A. Machado alla ke tou Nikou Eggonopoulou, tou Kosta Virvou, tou Lefteri Papadopoulou, tou Dimitri Mproyhou k.a., melopioyde se prototipi mousiki tou Mimi Plessa, pou proti fora sintheti pano se ispanofono stiho. Exehousa thesi sto album katehi to poiima tou Nikou Eggonopoulou me thema ton Konstadino Kavafi.

Sto album perilamvanete ena video clip girismeno ex oloklirousti Malta, episis sinodeyete apo entheto vivliaraki me tous stihous ton tragoudion, tous sidelestes ke alles plirofories.