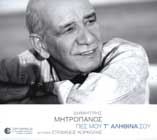 EXADLIMENO apo to katastima mas ke apo ton promithefti mas

Mia mousiki sinadisi pou itan epithimia hronon. Otan omos karpos avtis tis sinadisis eine 11 alithina tragoydia, 11 exeretikes ermineftikes stigmes tou Dimitri Mitropanou, 11 alithines ermineies 11 monadikes sinthesis tou Stefanou Korkoli, me stihous tou Nikou Moraiti ke tis Revvekas Royssi, otan i paragogi eine tou Ilia Mpenetou, otan to proto tragoydi proaggelos tou album to «Svise to Feggari» eine idi radiofoniki epitihia, Tote mallon milame yia ton disko tis hronias!

O Dimitris Mitropanos epistrefi s' avto pou kani hronia, s' avto pou spania simvaini pia stin diskografia ton polisillektikon diskon tou enos tragoudioy.

Meta ti sinergasia tou me ton THano Mikroytsiko ke tou «Aiona tin Paragka», ton Mario Toka ke tin «Ethniki monaxia» ke to «Parea me enan ilio», ton Dimitri Papadimitriou ke tis «PSihis to parakato», o Dimitris Mitropanos ebisteyete ton Stefano Korkoli...ke o Stefanos Korkolis kani pragmatikotita ena oniro tou, ena oniro pou perimene na pragmatopiithei hronia: i epithimia tou na grapsi laika tragoydia yia avtin ti foni.

Sto «Pes mou ta' alithina sou» apodiknyi ke tin laiki sinthetiki tou fleva tou Stefanou Korkoli. Alla ke o Dimitris Mitropanos apodiknyi yia mia akoma fora pos pera apo enas spoudaios laikos ermineftis borei na dosi zoi stis balades pou tha agapisoume metaxy ton opoion ke to «THes» to tragoydi pou anoigi to neo cd ke erhete yia na gini to tragoydi tou 2006.

O Nikos Moraΐtis ekane fetos ti diafora. Oi stihi tou agapithikan dikaios, afoy katafere na ftiaxi enan edelos prosopiko stihouryiko logo, pou eine simerinos, piitikos, pragmatikos ke lirikos mazi. O Nikos Moraΐtis ehi grapsi tous stihous sta 6 apo ta 11 tragoydia tou cd.

H Revveka Royssi borei mehri simera na mas ehi dosi liga deigmata tis doulias tis, afoy emfanistike molis prin 2 hronia sto «Anemoptero» tou Stefanou Korkoli. Eine omos idi mia apo tis pio elpidofores nees isodous. Ginekeios stihos, mestos, amesos ke efrimatikos Sto «Pes mou t' alithina sou» i Revveka Royssi mas faneroni epipleon ke ena spoudaio laΐko stihouryiko prosopo.

Paragogos tou cd, o Ilias Mpenetos, sinergatis, filos ke sinodiporos edo ke polla hronia tou Dimitri Mitropanou.