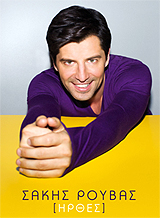 "Irthes" o titlos tou neou tou album, se mia hronia pou tou aniki, prosopika ke epaggelmatika

O apolitos ellinas star irthe. Neo album, nees epitihies, nea tragoydia yia na agapisoume. I anamoni telioni edo.

Meta to "Ke se thelo" pou katektise avto pou dikeoydan, eyine terastio hit, emine yia 10 evdomades sto No1 tou National Airplay Chart, ke ekane olous na anarotioyde pote kikloforei to neo album tou Saki Rouva.

Tora kikloforei to album «Irthes», me tragoydia pou tin mousiki ehi grapsi o Dimitris Kodopoulos, ektos apo ena pou i mousiki eine tou Sanny X, ke stihous i Viki Gerothodorou, o Nikos Gritsis, o Giannis Doxas, o Vaggelis Konstadinidis, i Pigi Konstadinou, o THanos Papanikolaou ke o Giannis Redoymis.

Meta to apolito dance «Ke se thelo», tora sira ehi to «Irthes» mia apo avtes tis balades pou thelis na akoys ton Saki Rouva na sou tragoudai. Ke epete sinehia. "Bimata", "Paradothika", "An boroysa", eine mono merika apo ta tragoydia pou xehorizoun me tin proti akroasi.

Se mia hronia pou ola girizoun gyro tou, o Sakis Rouvas katatheti ena apo ta kalytera album tis karieras tou.

To album sinodeyete apo entheto vivliaraki me tous stihous ton tragoudion, polles fotografies tou Saki Rouva, tous sidelestes ke alles plirofories.