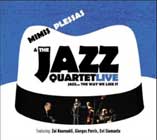 O Mimis Plessas ke to thriliko tou Jazzshima ( me sidelestes tous Tito Kalliri – kithara, Niko Tsesmeli – baso , Giorgo Lavrano – tybana ke to neotero melos THano Georgoula – saxofono / flaouto) vrethikan ton Noemvrio tou 2005 sto Mylo tis THessalonikis,kalesmeni sta plaisia tou 17ou Ethno – Tzaz Festival ton Dimitrion ke ihografisan zodana ti sinavlia tous.

Mazi tous i ekpliktiki Zoi Kouroykli, ermineyi tria apo ta pio agapimena kommatia tis diethnoys jazzskinis ke o nearos Giorgos Perris, pou mas xafniazi me tin ermineia tou sta agglika ke sta gallika, alla ke sto ¨Parathyri¨ tou Mimi Plessa.

Sto disko tha akoysete ke tin Eyi Siamada, mia dinamiki parousia me idiaiteres fonitikes dinatotites.

I epanemfanisi tou shimatos sto Mylo, ton Fevrouario tou 2006, mas edose ti dinatotita na prosthesoume tis spanies ihografisis dyo poly gnoston kommation tou sintheti, me ton Mimi Plessa sta keyboards ke tin Eyi Siamada se mia monadiki ermineftiki stigmi.

Ke opos lei haraktiristika o Mimis Plessas "Jazz den eine ti paizoume, alla pos to paizoume!"

Aito tha diapistosete ke eseis, akoygodas simera, to idio avto shima pou didaxe ti jazz stin Ellada, na paizi me tin idia dexiotehnia, tin idia artiotita ke kirios … to idio kefi!