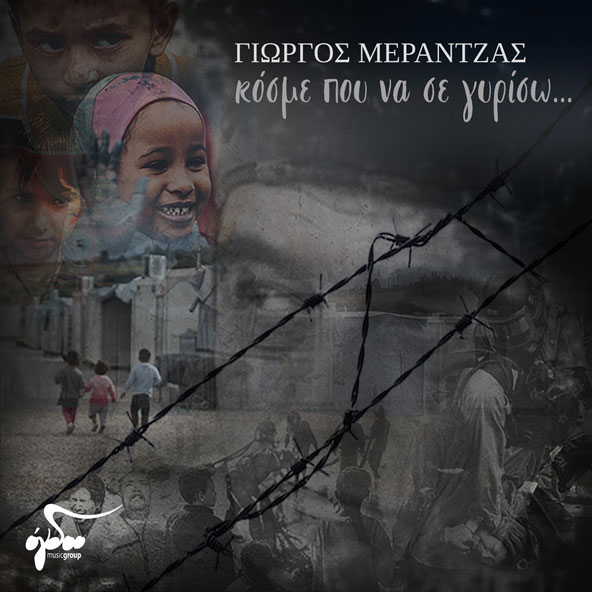 O Giorgos Meradzas epanerhete me tin kikloforia tou neou tou diskou pou ehi titlo «Kosme pou na se giriso…».

O diskos kikloforei apo to Ogdoo Music Group.

O kataxiomenos ermineftis sinehizi tin efdokimi ke asimvivasti kallitehniki tou poreia, katathetodas mia nea simadiki diskografiki ergasia yia tin opoia o monos katallilos na milisi eine fisika o idios: «Ke etsi eftasa os edo. Mia poreia monahiki ke kinoniki tavtohrona, sinithos kodra sto reyma alla gemati ebiria, oraia sinesthimata, sigkinisis polles fores apisteftes, onira pou karpoforisan ki alla pou ta kouvalao sto disaki mou yiati xeris pos kapia stigmi th' anastithoyn. An me rotisete pio eine to pio simadiko ke to pio dyskolo pragma pou ematha sti zoi mou tha sas po me apoliti ilikrinia (sighoriste mou ti frasi), oti ematha na agapao. Ematha na agapao tous anthropous, ta lathi tous, tis amfisvitisis tous, ohi omos tin sigouria ke tin veveotita pou den odigoyn pouthena. Ki etsi agapisa ton eavto mou. Eime poly haroymenos ke sigkinimenos yiA avto pou mou simvaini simera, yiA avti ti doulia pou kratate sta heria sas.

Zoyme varvares ke apanthropes meres sti hora mas ke se olo ton planiti. Oi kinonikes kataktisis peftoun san domino. Apo ti sidriptiki pliopsifia ton meson «enimerosis» den pernai tipota an enohlei tous hrimatodotes tous, kamia alithia, mono kataskevasmenes pseytikes idisis, ki etsi pano apo deka hronia tora i fasistes kikloforoyne sto dromo anenohliti, skorpizodas ton tromo. I ebrosthofilaki ton neonazi pire to dromo yia ta kelia.

Omos ekeini pou hrimatodotisan, proothisan, kalipsan me polloys tropous tin egklimatiki organosi, mazi me tous enstolous pou ekanan kines epidromes se diadilotes ke metanastes paramenoun sti thesi tous. Ke ola avta, otan i perissoteri apo emas paratiroyme to fenomeno, horis na anagnorizoume ti diki mas efthyni. An imoun zografos tha ekana ena pinaka.

O dikos mou ihos eine i simmetohi mou enadia sA avti ti varvarotita.

Ti oraia ikona, na gemizi i Alexandras me dekades hiliades, kirios neous anthropous me kathara prosopa ke astraftera matia. Eine i megalyteri parakatathiki yia tis megales foties tou mellodos pou tha erthoun.

THelo na afieroso ta tragoydia avtoy tou diskou sto pio sigklonistiko prosopo tis epohis mas. Stin ginaika symvolo agapis, pistis ke adohis. Stin Magda Fyssa, ti mana olon ton pedion, pou an ke mikroteri mou eine ke dikia mou mana.

I.G. Isos na min xanagyriza pote sto epaggelma ke stin diskografia an den eiha gnorisi avta ta iperoha plasmata tous agapimenous mou filous pou mazi tous den kano epaggelma alla psihotherapeia. Sas efharisto therma Manoli, Dimitri, Ntaso, Vasili, Despina.»

Kali akroasi, Giorgos Meradzas

Na simiothei oti ta tragoydia ihografithikan «zodana» sto stoydio, mia xehasmeni ke exeretika dyskoli praktiki ton hrison epohon tis diskografias symfona me tin opoia i mousikoi paizoun oli mazi ke o tragoudistis ermineyi se pragmatiko hrono, prosdidodas sto teliko apotelesma mia efdiakriti amesotita pou leipi apo ta simerina ihografimata.

Ohto tragoydia tou diskou ipografi o simadikos stihourgos- piitis Vaggelis Velonias ke eklektos sinergatis tou Giorgou Meradza, ena poiima eine tou megalou mas piiti Kosta Varnali, ena tou piiti Foti Aggoule ke ena tou Dimitri Ledzou, simadikoy episis syghronou stihourgoy ke piiti.

Ti mousiki ton tragoudion sinthetoun, tous parathetoume me alfavitiki sira, i poly simadikoi dimiourgoi: Dyo tragoydia o Tasos Gkrous, dyo tragoydia o Padelis THalassinos, dyo tragoydia o Ntaso Koyrti, dyo tragoydia Dimitris Sidos ke apo ena tragoydi i Giorgos Kazadzis, Dimitris Mpakoulis ke Manolis Pappos.

Simadiki i sinisfora ton exeretikon mousikon pou me tin agapi ke ti dexiotehnia tous kosmoyn to artio teliko apotelesma tis ihografisis. Eine axiosimeioto oti ta ennea apo ta edeka tragoydia pou periehi o diskos ihografithikan sta panemorfa Tzoumerka, ston paradosiako xenona «Xeneion» pou ehi dimiourgisi me meraki ke sevasmo sto mageftiko topio o Giorgos Meradzas, ston ikismo Tsopela pou vriskete stous propodes tis Stroggoylas.

To tragoydi «ApA to Stroboli» se stihous tou Vaggeli Velonia ke mousiki tou Giorgou Kazadzi eine grammeno yia ton megalo mas sintheti THano Mikroytsiko, ton eklipoda akrivo filo ke sinergati tou Giorgou Meradza.

O diskos «Kosme pou na se giriso…», titlos pou proerhete apo stiho tou Vaggeli Velonia, kikloforei psifiaka apo to Ogdoo Music Group ke eine diathesimos se oles tis psifiakes platformes.