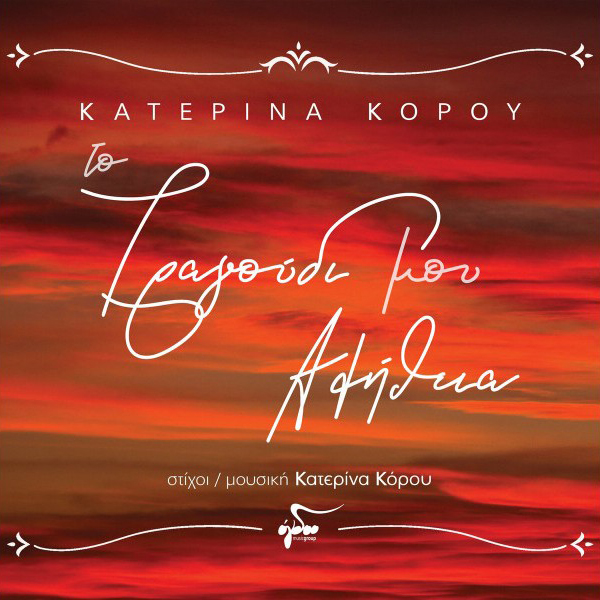 Katerina Korou: «To tragoydi mou alithia»

I Katerina Korou, i simadiki ermineytria ke dimiourgos merikon apo ta pio eborika ke epitihimena tragoydia olon ton epohon, parousiazi to neo tis alboum me titlo «To tragoydi mou, alithia».

Epita apo arketa hronia, epistrefi me mia nea diskografiki doulia, pou anadiknyi ta taleda tis toso os tragoudistrias oso ke os tragoudopioy.

To alboum perilamvani 11 tragoydia se mousiki tis idias se sindiasmo me tous endoskopikoys ke piitikoys stihous tis. Sto alboum simmetehi stihouryika ke o Panos Iliopoulos.

To alboum exerefna ta eonia themata tis agapis, tis lahtaras ke tou hronou.

Apo to enarktirio kommati, «Monahiko Zeibekiko» mehri to teleftaio tragoydi tou diskou «Den pethaini i agapi», to «To tragoydi mou, alithia» eine ena idiaitero mousiko syblegma pou anadiknyi tin tehni tis Katerinas Korou ke dini stous akroates mia ikeia matia ston kosmo tis.

Sto tragoydi «To taximi», akoygete to violi tou Giorgou Korou, apo palia ihografisi pou anakalipse o Dimitris Kodoyiannis.

Ston disko, deyteres fones kanoun o spoudaios Giorgos Ntalaras ke o THodoris Kotonias.

O diskos «To tragoydi mou, alithia» eine mia alithini yiorti tis epistrofis tis Katerinas Korou sti diskografia ke mia ipenthymisi tou terastiou taledou tis ke tis ikanotitas tis na sindeete me to kino, tragoudodas tis elpida tous erotes ke ta pathi ton anthropon.